In this video, I demonstrated the effectiveness of the $16 Nooelec Flamingo FM Band Stop Filter. The purpose of this unit is to reduce the overloading that occurs from high power FM broadcast band transmitters.
The Nooelec Flamingo technical charateristics are published in a datasheet. Here you can see how much attenuation is applied across Broadcast FM frequencies.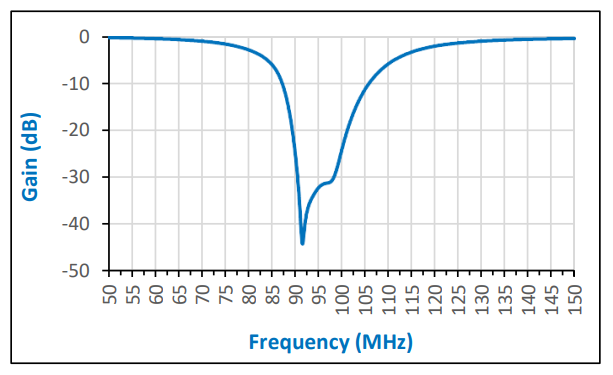 This image shows that the signal strength of incoming signals begins to be reduced from around 70 MHz. By the time you tune to 130 MHz, you are back to regula signal strength. Everything in between those frequencies is attenuated. This is particularly true of the signals in the FM Broadcast band (87.5 to 108 MHz).
You can be download the full datasheet directly from the Nooelec website.
Where to Buy
I purchase the Nooelec range of products from Amazon, because of the fast & free delivery I get with my Prime membership. Affiliate links are below. If you order from one of the links below, you pay the same price, but the channel gets a small commission on the sale. Every little helps 🙂
If you haven't already watched the video, click here to see the Nooelec Flamingo in action!
The RTL-SDR team also produce an FM Broadcast filter. Several of the viewers on the Frugal Radio channel have reported great results using it as well. Clicking the picture below will link you to the Amazon product page.
If you have any comments to make about the filter and how it has worked for you, or others filters you have tried, please do so on the YouTube video page.
If you value this type of content and would like to help support the Frugal Radio channel, then feel free to make a donation. Thank you!
Stay safe out there.
This is Frugal Radio, over & out.