One thing I am frequently asked about is how many antennas I have, and how I distribute the signal to multiple SDRs or scanners. Hopefully this post and episode will explain a little more. Please excuse the crazy mess that is my shack 😉
If you haven't watched the video on YouTube, then this will give you some context for the following.
The Antenna
My antenna is a Pulse Larsen triband NMO 150 / 450 / 800 MHz mobile. It performs very well across VHF, UHF and 700/800 MHz, despite its small size.
I had initially purchased 2 of these for my car, however after selling the ex-police Crown Vic, I decided to try it as a base station antenna.
I monitor several 700 MHz site, a couple of 800 MHz sites, a few in the 410-463 MHz range, and a mix of VHF – from 118 to 162 MHz mostly.
I used a Tram 1465 Ground Plane kit. As the name suggests, this adds a ground plane to any NMO antenna, such as the triband one above. Doing so adds 2-3dB of gain to the received signal.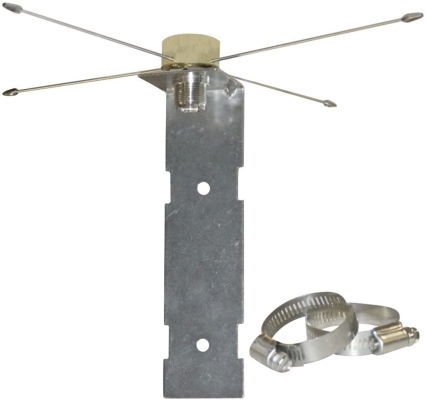 Multicouplers
When splitting an antenna signal, you don't want to experience loss. So using traditional Y connectors is a no-no. Passive splitters also suffer from loss, so you will want some kind of active device.
Multicouplers are devices that take 1 antenna input, and split it across multiple outputs with very little loss. These active devices often introduce a little extra gain.
Commercial multicouplers are not particularly frugal devices. So while I use 1 commercial unit, I also use a much less expensive hack to feed other radios 🙂
The above photo is the Stridsberg Engineering MCA208M multicoupler. It runs from a 12v input, and distributes 1 antenna connection to 8 devices. I paid $335USD for this device back in 2017. The price appears to be the same today. Stridsberg make a number of high quality multicouplers designed for different frequencies, and available in 4, 8 or 16 port versions.
But what if your budget is much more limited? Well, there are alternatives that can work just as well. Here is the other 'multicoupler' I use. Officially it is a TV drop amp.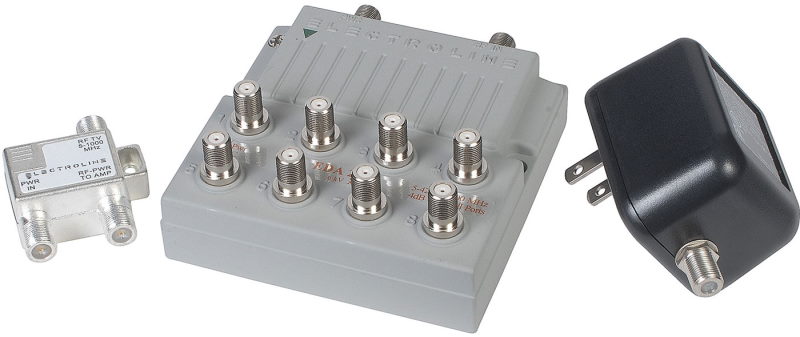 My unit is a used Electroline 8 port amp that I purchased on eBay for under $35. It introduces a little extra gain (approx 4.5dB per port). If I was buying one today, I would get the model that offers zero gain, which you can find over at Amazon US.
I currently have my antenna input going to the Electroline. From there, 7 F-connectors carry the signals to various scanners and SDRs. The remaining connection goes from the Electroline into the Stridsberg MCA208, which then provides 8 BNC outputs (also going to various scanners and SDRs).
It would be better to have another antenna feeding the Stridsberg (best not to have 1 multicoupler feeding another), but it works surprisingly well in this configuration, with the only problem being commercial FM broadcast stations appearing up to 119 MHz or so.
Adapters
As you saw in the video, I use adapters to connect F connectors and BNC connectors to my SDRs, or from the TV amp to my scanners.
I received some suitable adapters in the RTL-SDR connector kit I purchased, but I needed some more for all my radios.
These are the BNC to SMA male connectors I purchased from Amazon US. The cost is $5 for a pack of 2.
I use these F connector to SMA adapters, which come in at under $5 per pair on Amazon US 🙂
You can also pick up adapters like these from local electronic suppliers.
I use the F connector to BNC male adapters for connecting antenna outputs from the Electroline TV drop amp to my scanners. A pack of 10 costs $7.99.
SDRs and Radios
If you watched the video linked above, you will have seen several SDRs and scanners. To find out more about the devices I use you can check out the following pages.
RTL-SDR v3
NooElec NESDR SMArt
AirSpy & SDRPlay receivers
Scanner gear